Rev. Timothy Nelson, Catholic Healthcare International Director, Pastor of St. Mary Star of the Sea in Jackson, Michigan, retired cardiologist and key member of the Casa USA Leadership Team, published the follow excellent article about our collaboration with Padre Pio's Casa Hospital in Italy to replicate his healing charism in the Diocese of Lansing, Michigan. Congratulations to Fr. Nelson for an excellent exposition of the plans and work of our apostolate.
GUILD NEWSAll Issues > 2020 Winter > Restoring Catholic Health Care in a Secular Age: "CASA-USA"
Restoring Catholic Health Care in a Secular Age: "CASA-USA"
BY FR. TIMOTHY NELSON, M.D.

On January 9, 1940, Padre Pio announced his grandiose plan to develop a "Home for the Relief of Suffering" (Casa Sollievo della Sofferenza) at San Giovani Rotondo, Italy. The Casa opened its doors on May 5, 1956 as a 300-bed facility. He also developed an international network of prayer groups called the Padre Pio Prayer Groups for the support of the Casa.
Padre Pio considered the Casa Sollievo Della Sofferenza his greatest work, inspired and blessed by God. It is a model community of Catholic health care delivery. Today, with over 1,000 beds, it has grown into a regional referral center of international renown.
Dr. Guglielmo Sanguinetti was Padre Pio's Director of Implementation for the Casa Hospital. It was his vision that Padre Pio's hospital would be the first among many such hospitals around the world. In 1950 he wrote:
"The Casa Sollievo della Sofferenza should therefore be the first link in a great chain. It should be the model for many other innumerable Casas with the same name, and above all the same spirit, which must bring love to all of humanity. A program which would make us tremble with awe, if it was not inspired by God, who is above all, love!"
Developing a replica of Padre Pio's hospital in the United States became the mission of Catholic Healthcare International (CHI), through a formal Collaboration Agreement with Padre Pio's Casa in 2009. Then, in 2020, Bishop Earl Boyea of the Diocese of Lansing, generously donated 40 acres of prime land in Howell, MI, as a beautiful and tranquil campus for prayer to begin the development of this vision. On this campus and within the Howell area are four important manifestations of CHI's commitment: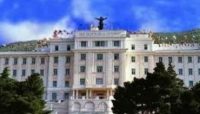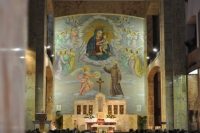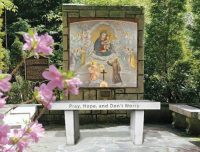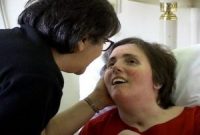 Also planned is an authentically Catholic medical school faithful to the Magisterium of the Church as well as the Christ Medicus Foundation National Center for Public Policy.
This "Casa-USA campus" will be a model of truly faithful Catholic health care delivery for other Catholic health care providers currently challenged by our increasingly secular culture.
It was Padre Pio's firm belief, and ours too, that all we do is for the glory of God. Our work is always based on the foundation of prayer, especially Eucharistic Adoration. Catholic Healthcare International (CHI) is asking people who pray before the Blessed Sacrament to add "The Casa" to their prayers and register for the first-ever Worldwide Perpetual Adoration team. This program unites a global network of Eucharistic Adorers who, as a unified army, pray around the clock for their own personal intentions, and also for Padre Pio's health care apostolates in both Italy and the U.S. Adorers commit to a weekly hour of Eucharistic Adoration and then pray in the presence of the Blessed Sacrament in a Catholic church or adoration chapel in their home communities.
For more information, please go to the Catholic Healthcare International website at: www.chi-usa.com
Fr. Timothy Nelson, M.D., is the chaplain for the Lansing CMA Guild and past president.