"If we earnestly endeavor to love Jesus, this alone will drive all fear from our hearts and soul will find that instead of walking in the Lord's paths, it is flying." St. Pio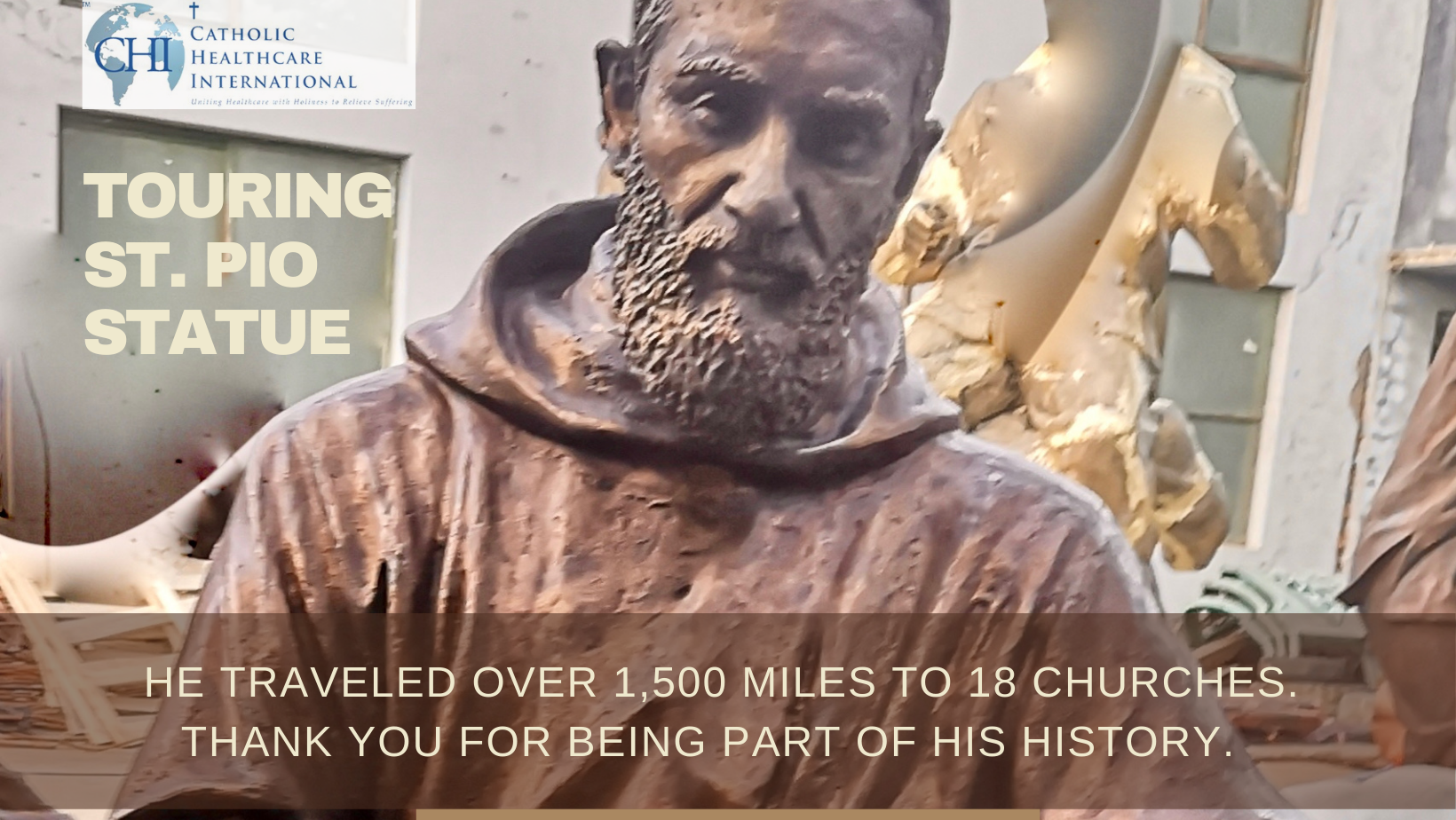 The life-size statue of St. Pio is on his second tour of churches in the region before being installed on the Casa USA campus in Howell, MI, where he will remain permanently to greet devoted pilgrims & his spiritual children.
The statue is a one-of-a-kind depiction of Padre Pio created to sit under a magnificent tree on the property in Howell, MI. 
On September 7th, 1910, in the first year of his ministry, Padre Pio received the first stigmata while sitting beneath a magnificent tree in Piana Romana, Italy.
St. Pio shared the experience in a letter to his spiritual advisor, 
"In the center of my hands, a red spot appeared, about the size of a coin, and with it, an intense pain in the soles of my feet."
This pain in his hands and feet was the first occurrence of the stigmata, even though they were not visible at the time.
It was not until September 20, 1918, that Padre Pio received the visible stigmata after he celebrated morning Mass.
The statue is based on one of the few photos of St. Pio when he was younger.
CURRENT SCHEDULE FOR YOUNG ST. PIO's ENCORE TOUR
NOVEMBER 15-28 | ST. THOMAS AQUINAS | EAST LANSING
NOVEMBER 29-5 | QUEEN of ANGELS | FORT WAYNE, IN
DECEMBER 6-12 | MOST PRECIOUS BLOOD | FORT WAYNE, IN
DECEMBER 13-19 | ST. JUDE | FORT WAYNE, IN
DECEMBER 20-26 | SS PETER & PAUL | HUNTINGTON, IN
DECEMBER 27-3 | ST. MARY | HUNTINGTON, IN
JANUARY 4-9 | QUEEN of ANGELS SCHOOL | FORT WAYNE, IN
JANUARY 10-16 | CATHOLIC SCHOOL | IN
JANUARY 17-23 | CATHOLIC SCHOOL | IN
JANUARY 24-30 | PARISH SCHOOL | IN
FEBRUARY 7-13 | ST. MARTHA | OKEMOS, MI
FEBRUARY 14-20 | HOLY SPIRIT | HAMBURG
FEBRUARY 21-27 | ST. BASIL the GREAT | EASTPOINTE, MI
FEBRUARY 28-March 6 | ST. FAUSTINA | WARREN, MI
MARCH 7-13 | OUR LADY of GRACE | WARREN, MI
MARCH 14-20 | ST. JOSEPH SHRINE | DETROIT
MARCH 21-27 | SAN FRANCESCO | Clinton Twp, MI
MARCH 28-APRIL 3 | MOTHER of DIVINE MERCY | DETROIT
APRIL 4-10 | MOTHER of DIVINE MERCY | DETROIT
APRIL 11-17 | MOTHER of DIVINE MERCY | DETROIT
APRIL 18-24 | ST. MARY | WILLIAMSTON, MI
APRIL 25-MAY 1| OUR LADY OF GUADALUPE| MACEDONIA, OH
MAY 2-8 | OUR LADY OF GUADALUPE | MACEDONIA, OH
MAY 9-15 | CHURCH of The ASSUMPTION | BROADVIEW HEIGHTS, OH
MAY 16-22 | ST. AUGUSTINE | BARBERTON, OH
MAY 23-29 | ST. JOSEPH | HOWELL, MI
MAY 30 – JUNE 5 | ST. MARY MAGDALEN | BRIGHTON, MI
JUNE 6- 12 | DATE ON HOLD
JUNE 13-19 |
JUNE 20-26 |
JUNE 27-JULY 3 |
To book a week, please contact Ann at aoreilly@chi-usa.c
IN 2021, YOUNG ST. PIO VISITED: